Overview
In the heart of Oceanside, California, lies an interesting Indian Restaurant that beckons all lovers of Indian cuisine – Turmeric Hut. With its tantalizing array of dishes, this Indian restaurant offers a delightful gastronomic experience that transports diners to the vibrant streets of India. From delectable appetizers to mouthwatering entrées and irresistible desserts, Turmeric Hut's menu is a treasure trove of flavors that caters to a diverse palate.
Menu of Turmeric Hut
Appetizers:
Any culinary journey at Turmeric Hut begins with a selection of appetizers that promise to tantalize the taste buds. The menu boasts a variety of options, each more enticing than the last. The Veg Samosa is a popular choice, featuring fried pastry filled with a savory vegetable blend. Equally tempting are the Mix Veg Pakoda and Onion Pakoda, both featuring crispy bites of vegetables coated in a gram flour batter and deep-fried to perfection.
For those who crave something rich and indulgent, the Paneer Pakoda is a must-try. These delectable cottage cheese bites are mixed with a gram flour batter and deep-fried to a golden crisp. Meat lovers will relish the Chicken Pakoda, which offers the same crispy goodness with succulent chicken bites.
Chaat Corner: 
Chaat, a beloved Indian street food, takes center stage at Turmeric Hut's Chaat Corner. Diners can choose from a variety of chaat options, including the Papdi Chat. This cold assortment of wafers, potatoes, chickpeas, spices, yogurt, and tangy-sweet chutney creates a symphony of flavors in every bite.
The Dahi Puri and Paani Puri are crispy fried dough balls stuffed with a delightful mixture of potatoes, spices, tangy water, and sweet chutney. These bite-sized delights are an explosion of flavors that perfectly balance sweet, tangy, and spicy elements.
Another popular choice is the Aloo Tikki, a small cutlet made with boiled potatoes and spices, served with chutney. For those who prefer a more substantial option, the Chole Bature is a large deep-fried bread served with garbanzo beans curry, while the Poori Aloo/Chole offers a smaller deep-fried bread served with garbanzo beans curry or potato.
Tandoori: 
The Tandoor Corner at Turmeric Hut brings the essence of Indian grilling to life. One of the standout dishes is the Tandoori Paneer Tikka. These cottage cheese cubes are marinated in yogurt and spices, then cooked in a clay oven, resulting in a smoky, flavorful treat.
Seafood enthusiasts will appreciate the Tandoori Shrimp, featuring marinated shrimp cooked to perfection in the tandoor. Vegetarians have a delightful option with the Tandoori Mushroom, which showcases marinated stuffed mushrooms with a delightful smoky flavor.
Even tofu lovers have reason to celebrate with the Tandoori Tofu. This marinated tofu, cooked in the clay oven, absorbs the rich tandoori flavors, creating a savory dish that's both satisfying and aromatic.
For those who prefer poultry, the Tandoori Chicken is a must-try. Tender pieces of chicken are marinated and cooked in the clay oven, ensuring a juicy and flavorful outcome.
Breads:
Indian cuisine is incomplete without its array of bread, and Turmeric Hut offers a diverse selection to accompany your meal. The Aloo Paratha is a favorite, featuring whole wheat flour bread with a delicious potato filling. The Gobi Paratha offers a similar concept but with a cauliflower filling, while the Plain Paratha is a simple yet satisfying choice.
For those who prefer unleavened bread, the Tandoori Roti is a perfect option. It's a flatbread made from wheat flour and cooked in the tandoor.
Naan lovers will be spoilt for choice with options like Plain Naan, Garlic Naan, and Paneer Naan, which is stuffed with cottage cheese. The Turmeric Naan offers a unique twist, with the goodness of turmeric infused into the leavened dough.
For an explosion of flavors, try the Everything Naan, featuring a delightful everything seasoning. The Mint Naan offers a refreshing twist, while the Cheese Naan adds a rich and indulgent element to your meal. Those who enjoy a bit of heat will appreciate the Chilli Garlic Naan, while the Coconut Cherry Naan adds a sweet and fruity dimension.
Vegetarian Delights:
Turmeric Hut extends its warm embrace to vegetarians with a diverse selection of delectable entrées that span the spectrum of flavors and ingredients. The Mix Vegetable with Gravy/Without Gravy presents a harmonious blend of vegetables, bathed in aromatic spices, while potato enthusiasts can revel in the Aloo Jeera, where potatoes marry cumin, or the Aloo Gobi, a delightful fusion of potatoes and cauliflower, meticulously cooked to perfection.
For a protein-packed treat, the Channa Masala takes center stage with its hearty chickpea curry. Bindi Masala spotlights okra, expertly prepared with a tantalizing blend of spices, while the Baigan Bharta showcases a rich and flavorful curry infused with barbecued eggplant. The Aloo Mutter combines potatoes and peas in a symphony of aromatic spices, while the Saag Aloo marries spinach and potatoes for a wholesome and flavorful curry.
Mushroom aficionados can delight in the Mutter Mushroom, where mushrooms join forces with tender green peas and spices, creating a delightful medley. The Tofu Mutter Masala elevates tofu and peas in a mouthwatering masala curry. For a unique twist, the Zucchini Masala offers an innovative take on traditional Indian flavors.
The Paneer Corner, celebrating the star ingredient of Indian cuisine, paneer (cottage cheese), beckons with its array of creamy delights. Palak Paneer boasts a creamy spinach and cottage cheese curry, while Mutter Paneer marries cottage cheese with peas and spices to craft a savory masterpiece. Paneer Makhni, a decadent creation, sees cottage cheese luxuriating in a silky makhani gravy, adorned with ginger and cream.
The Kadahi Paneer is a delightful blend of cottage cheese and bell peppers, cooked to perfection with a medley of spices in a semi-dry curry. Shahi Paneer, fit for royalty, features cottage cheese cubes immersed in a thick gravy of cream, tomatoes, and spices. The Saag Paneer, a hearty green leafy vegetable and cottage cheese curry, celebrates wholesome flavors.
For a unique twist, indulge in the Malai Kofta, where mixed veg dumpling balls take a leisurely soak in a rich creamy gravy. And for those drawn to smoky and spicy profiles, the Paneer Tikka Masala is an irresistible option. This dish features cottage cheese luxuriating in a fiery and flavorful tikka masala sauce, ensuring a culinary experience that's nothing short of heavenly.
Non Vegetarian Delights:
Turmeric Hut's Chicken Entrée Corner boasts an array of chicken dishes, each a delectable journey through Indian flavors. The Mango Chicken Curry harmoniously blends sweet and savory, with tender chicken simmered alongside mango and spices, offering a delightful fusion of tastes.
If you're inclined toward creamy indulgence, the Chicken Korma is a stellar choice. Slow-cooked with yogurt and spices, it yields a luxuriously thick curry. Butter Chicken, a beloved classic, features succulent chicken bathed in a mildly spiced tomato sauce enriched with butter.
For those craving a tangy kick, the Chicken Vindaloo provides a zesty experience. The Madras Chicken Curry adds a southern twist, as chicken is lovingly prepared with spices and coconut milk.
A menu highlight is the Chicken Tikka Masala, featuring chicken luxuriating in a rich, creamy tomato-based curry, a beloved Indian classic.
Turning to seafood, Turmeric Hut caters to aficionados with offerings like Fish Curry, where fish swims in a traditional, thick, and spicy fenugreek-infused gravy. Shrimp enthusiasts can relish the Shrimp Curry's burst of flavors from a similar thick and spicy gravy with fenugreek leaves. The Shrimp Saag adds a nutritious twist, pairing shrimp with spinach in the same flavorful gravy. Lastly, the Madras Fish Curry introduces coastal vibes with its unique blend of spices and coconut milk.
Lamb and goat lovers can embark on a savory journey at the Lamb / Goat Curry Point. The Lamb Curry presents succulent lamb immersed in spices within an onion and tomato-based sauce. For those seeking tangy ecstasy, the Lamb Vindaloo provides a spirited choice, with lamb dancing in a zesty sauce. Lamb Korma tempts with its rich, creamy allure, slowly cooking lamb with yogurt and spices into a sumptuous curry. The Lamb Saag combines spices with spinach for a hearty and flavorful dish. The Madras Lamb Curry pays homage to South India, with lamb and spices simmered in coconut milk for a distinctive profile. Goat enthusiasts can revel in the Goat Curry, a tantalizing dish where goat meat melds with spices in an onion and tomato-based sauce. Lastly, the Goat Korma serves up creamy delight, with goat meat taking a leisurely soak in yogurt and spices, crafting a luscious curry that's a treat for the senses.
Rice Varieties:
Rice is a staple in Indian cuisine, and Turmeric Hut offers an array of rice dishes to complement your meal. The Basmati Rice – Plain is a simple yet satisfying choice, featuring steamed white basmati rice that pairs well with any curry.
For a burst of flavor, try the Mutter Pulav, where rice is cooked with peas and spices to create an aromatic and delicious dish. The Veg Pulav takes things up a notch by combining rice with mixed vegetables and spices, offering a complete meal in itself.
Biryani lovers have several options to choose from. The Veg Biryani is a flavorful combination of basmati rice, spices, and mixed vegetables. The Chicken Biryani features the same aromatic rice but with succulent chicken pieces. For those who enjoy a richer taste, the Lamb Biryani and Shrimp Biryani offer options with lamb meat and shrimp, respectively.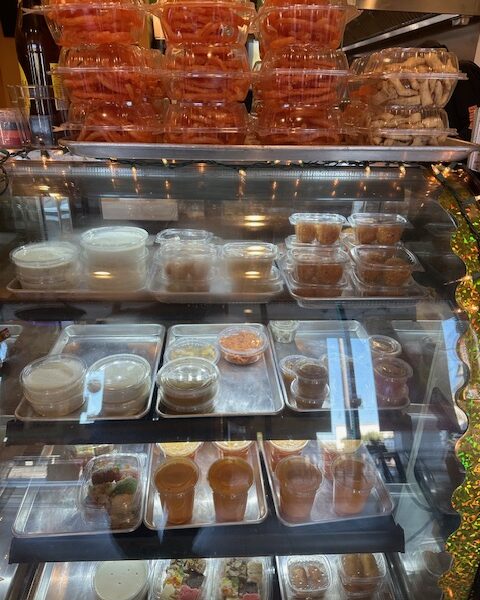 Sweets / Desserts:
No Indian meal is complete without a sweet ending, and Turmeric Hut ensures a delightful conclusion to your culinary journey. The Gulab Jamun is a classic favorite, featuring soft, spongy, pearl-shaped versions of this iconic dessert.
For something richer, the Rasamalai is a must-try. Homemade cottage cheese patties are served in special condensed milk and garnished with pistachio nuts, creating a creamy and indulgent treat.
The Cutlus presents a unique twist, featuring long gulab jamun stuffed with mawa, a delightful variation of the classic dessert. The Chum Chum, Milk Cake, Mothichur Laddu, Jelabi Kesar, and Gajar Halwa offer a variety of premium sweets made with flour, saffron syrup, and grated carrots cooked in milk.
For a lighter option, the Rice Pudding is a soothing and comforting choice that's sure to satisfy your sweet tooth.
Beverages:
To complement your meal, Turmeric Hut offers a range of refreshing beverages. The Turmeric Masala Milk is a delightful concoction that combines the goodness of turmeric with milk.
For something fruity and indulgent, the Mango Lassi is a classic favorite. The Sweet Lassi is a simple yet satisfying option, while the Salt Jeera Lassi offers a savory twist to traditional lassi.
Those who prefer classic beverages can opt for a Can Soda or indulge in a cup of aromatic Masala Chai or Special Filter Coffee.
Catering and Buffet
Turmeric Hut offers Indian food catering services in Oceanside and the surrounding regions. On the weekends, Turmeric Hut offers Indian Lunch Buffet which includes both Vegetarian and Non Vegetarian options. The Desserts and the Masala Tea at the end is the highlight.
Visited 709 times, 2 Visits today