Overview
Akshar Cash 'N' Carry, a renowned Indian supermarket in San Diego, is dedicated to meeting the diverse needs of its clientele by offering an extensive array of authentic Indian products. This establishment is committed to delivering a truly genuine Indian shopping experience, ranging from essential food items to specialty goods.
A Plethora of Indian Food Staples: Akshar Cash 'N' Carry stands as the ultimate destination for Indian food essentials. Patrons can explore a wide selection of Indian fruits and vegetables, including favorites like Indian Okra, Tindora, Methi, Bitter Gourd, Indian Red and Green Chillies, Coconut, Mangos, and more.
A Dairy Extravaganza: Acknowledging the pivotal role of dairy in Indian cuisine, the store provides a diverse assortment of dairy products, from Dahi and Paneer to Yogurt Drink and Lassi, ensuring customers ha
ve all the necessary ingredients for their culinary creations.
Bakery and Frozen Delicacies: For those craving bakery items or frozen Indian treats, this Indian supermarket in San Diego boasts an enticing array. Customers can savor various bread varieties, including Naan, Pulka, Roti, Pav, and explore a range of cakes and Indian-branded biscuits (Parle, Britannia, Karachi Bakery). The store also presents an enticing selection of Indian frozen foods, featuring favorites like Samosa, Bajji, North Indian Parathas, Malabar Parottas, and more.
Indulge in Savory Snacks: Customers in search of savory snacks will be delighted by the wide array of options. The store features a variety of renowned snack brands such as Amma's Kitchen, Haldirams, Surati, Udupi, Anand, and many more. Choices encompass delectable options like Pani Puri (Golgappa), Bhel Puri, Papdi, Muruku, and an assortment of mixtures.
Pulses and Spices Galore: Akshar Cash 'N' Carry presents an extensive collection of both conventional and organic pulses, including Toor Dal, Moong Dal, Channa Dal, Urad Dal, Rajma, alongside an impressive array of Indian spices and masala powders. Customers can elevate their culinary creations with quality spices like Chilli, Turmeric, Coriander, Cumin, Sambar, Rasam, Curry powders, and more.
Rice and Flour Delights: Customers have the opportunity to explore a selection of conventional and organic rice products, such as Sona Masoori, Basmati, Parboiled Rice, Idly Rice, Brown Rice, along with flour products like Maida, Besan, Rice Flour, Corn Flour, Multigrain Flour, Atta, and much more. The store also offers North Indian and South Indian chutneys, pickles, and the convenience of Idly/Dosa Batter.
Specialty Selection: Akshar Cash 'N' Carry stocks unique, India-specific items, including Tamarind, Meal Kits, Instant Mixes, Dhoop Sticks, and a selection of alcoholic beverages like Old Monk, Amrut products, and more.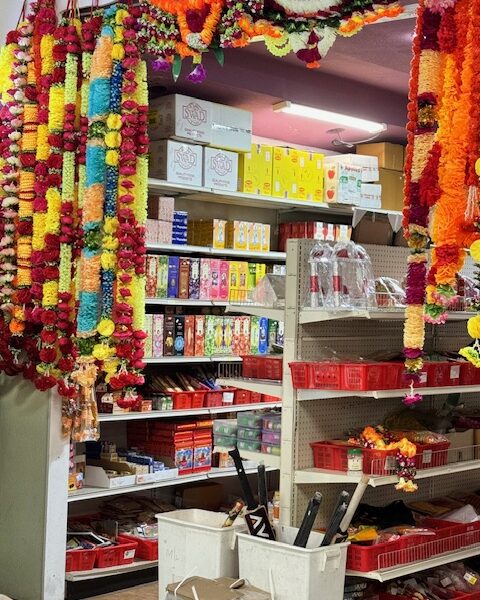 Health and Beauty Essentials: The store features health and beauty products from renowned Indian brands, including Dabur, Himalaya, Patanjali, Ayur, Parachute, and Hesh. Customers can find an extensive range of soaps, shampoos, oils, henna, and more to cater to their personal care needs.
Devotional and Kitchen Goods: Beyond groceries, the store offers a selection of devotional items and Indian-styled kitchen utensils, enhancing the overall shopping experience.
By visiting this well-stocked Indian grocery store in San Diego, patrons can embark on a flavorful journey to experience the rich and diverse tastes of India.
Visited 106 times, 1 Visit today