Overview
Curry and More, Indian Restaurant in San Diego – San Marcos and Oceanside, is a culinary gem that invites diners on an exquisite journey through the vibrant flavors of Indian cuisine. With a warm and inviting ambiance, this restaurant creates a perfect setting for a memorable dining experience. The menu is a treasure trove of authentic Indian dishes, ranging from tandoori delights like succulent chicken kebabs to aromatic curries brimming with spices and herbs. Vegetarian options abound, catering to diverse palates. With attentive service and a commitment to using high-quality ingredients, Curry and More captures the essence of India's rich culinary heritage. It's a must-visit destination for those seeking a taste of some of the best Indian Food in San Diego – San Marcos and Oceanside regions.
Menu of Curry and More
As the title of this article says, Hyderabadi Biryani – Goan Prawns – Jaipuri Masala Bhindi, the menu of Curry and More covers the spectrum of Indian food scene from North to South. With a very delightful presentation on the plate, Curry and More offers wide range of Indian Cuisine dishes.
Indian Bread:
Bread enthusiasts can delight in a variety of freshly baked treats. The "Tandoori Roti" offers a wholesome whole wheat bread baked to perfection in the tandoor, while the classic "Naan" is an unleavened wheat flour bread known for its soft and slightly crispy texture. For something special, guests can enjoy the "Lachha Parantha," a layered whole wheat bread generously spread with butter, or the fragrant "Pudina Parantha," a layered parantha topped with crushed dried mint. Unique creations include the "Goat Cheese Kulcha," a naan filled with goat cheese and black cumin, and the "Keema Kulcha," featuring naan filled with ground lamb, finely chopped onions, cilantro, and spices. The menu also features variations on classic "Naan," such as the "Garlic & Basil Naan," topped with garlic and dried basil, and the savory "Onion Kulcha," baked with onions, cumin seeds, and cilantro. Additionally, "Bhatura" offers a fluffy, deep-fried bread option.
Appetizers:
Curry and More's menu boasts an array of mouthwatering Indian appetizers that are designed to ignite your palate. Their "Fish Amritsari" is a standout option, featuring deep-fried mahi-mahi that's been carefully marinated in a spice blend infused with the unique flavors of fenugreek. This dish captures the essence of Amritsar's streets, delivering a taste that's simply unparalleled. The "Mumbai Calamari" is another gem, offering crispy and flavorful chickpea-batter-fried calamari, which seamlessly combines the rich flavors of Indian spices with the sea's freshest catch.
Indian Street Food:
"Bikaneri Samosas" are crispy pastry puffs filled with spiced potatoes and green peas, reminiscent of Rajasthan's vibrant bazaars. "Spinach Potato & Onion Pakoras" offer a crispy contrast with their flavorful blend of spinach and potatoes, served alongside tangy tamarind chutney. Dive into the world of Indian roadside snacks with "Bhelpoori Chatt," a delightful combination of rice flakes, tomatoes, and onions presented in a papadam basket. Experience the authentic taste of Indian street food delights without leaving San Marcos at Curry and More.
Indian Soups and Curry:
"Tomato & Roasted Cumin Shorba" offers a soothing clear tomato soup with a subtle hint of smoky cumin. For a unique blend of flavors, "Spicy Coconut & Basil" combines creamy coconut milk with aromatic basil and chili oil. Delight in the zesty "Lemon Grass & Cilantro Yakhni," an aromatic soup infused with the freshness of lemon and cilantro.
Tandoori Delights:
"Tandoori Chicken" presents charbroiled chicken on the bone, marinated in yogurt and spices for a juicy, smoky flavor. "Seekh Kebab" offers a melt-in-the-mouth experience with ground chicken seasoned with cardamom. Enjoy a delightful "Tandoori Salad" with your choice of salmon, chicken, or sirloin served over fresh greens, drizzled with balsamic reduction.
Indian Curries:
"Chicken Curry" captures classic Indian flavors with onions, tomatoes, peppercorns, and spices. Experience luxury with "Chicken Awadi Korma," featuring succulent chicken in a mild creamy cashew sauce garnished with almonds. Spice enthusiasts can relish "Chicken Vindaloo," a fiery combination of chicken and young potatoes in a hot Goan sauce. "Coconut Chicken" offers a taste of coastal India with its coconut-infused curry. "Chicken Palak" is a revelation, as tender chicken is curried to perfection with fresh spinach, creating a harmonious blend of flavors. For those seeking an extra kick, "Chicken Jalfrezi" takes center stage with its spicy chicken cubes expertly cooked with tomatoes, onions, bell pepper, and a touch of ginger. The culinary adventure continues with "Murg Kali Mirch," where succulent chicken meets a symphony of whole spices and concludes with the boldness of cracked peppercorns.
Lamb enthusiasts are in for a treat. "Lamb Roganjosh" is a timeless classic, showcasing the rich flavors of saffron infused into tender lamb curry. Meanwhile, "Lamb Korma" offers a luxurious experience, with lamb bathing in a mild butter cream cashew sauce, topped with the delightful crunch of almonds. The delectable "Lamb Saag" introduces the flavors of tender lamb, creamed spinach, and invigorating ginger. Meat lovers also have a reason to rejoice with "Keema Matar," featuring spiced Angus ground beef cooked to perfection with fresh green peas.
For seafood lovers, "Goan Prawns" await, offering a delightful coastal curry enriched with coconut and turmeric, lending a unique flavor to simmered prawns. The culinary voyage reaches new heights with "Mahi Mahi Masala," showcasing fresh mahi-mahi cooked in a tangy masala sauce, delivering a symphony of flavors. As the final highlight, "Kofta Curry" is a meatball masterpiece, with Angus beef meatballs luxuriating in a flavorful masala sauce. Each dish offers a unique taste, ensuring a fulfilling journey through the flavors of Curry and More.
Vegetarian Options:
"Jaipuri Masala Bhindi" brings the flavors of sautéed okra with onions, tomatoes, and bell peppers. "Aloo Gobhi" combines cauliflower and young potatoes with sautéed onions, tomatoes, and ginger. "Palak Paneer" offers home-made fresh cheese with spinach and fenugreek for a mild yet flavorful experience. "Navaratan Korma" blends seasonal vegetables in a creamy sauce enriched with fenugreek and nuts. "Mixed Vegetables" celebrate curried garden-fresh vegetables.
Delight in the bold "Paneer Kali Mirch," as farmer's cheese meets whole spices and finishes with the zing of cracked peppercorns. "Malai Kofta" offers golden-fried cheese and vegetable dumplings bathed in a luxurious green cardamom cashew cream sauce. "Paneer Makhni" takes farmer's cheese on a sautéed adventure with mild spices, tomatoes, butter, and cream. Explore the aromatic "Pindi Channa Masala," where garbanzo beans join fresh tomatoes, ginger, garlic, and a rich blend of spices. The flavorful "Mushroom Mattar" unites button mushrooms and fresh green peas in a semi-dry curry. "Kalounji Baingan" showcases baby eggplants cooked in a tangy tomato and onion seed masala. And "Kadhai Paneer" brings together cottage cheese, tomatoes, bell peppers, onions, and an array of spices. Lastly, "Matar Paneer" offers the satisfying combination of farmer's cheese and fresh peas in a tomato and onion gravy. For a unique twist, "Mushroom Jalfrezi" combines mushrooms, ginger, tomatoes, onions, and bell peppers, crafting an array of captivating flavors that cater to all palates.
Lip-smacking Biryani:
"Curried Chicken," "Hyderabadi Lamb," "Garden Vegetables," and "Masala Shrimp" are among the tantalizing biryanis cooked with aromatic basmati rice, accompanied by a side of refreshing yogurt and cucumber raita.
Indian Sweets:
To complete the meal on a sweet note, Curry and More offers a selection of irresistible desserts. Diners can relish the traditional flavors of "Almond Illaichi," a saffron and cardamom-infused rice kheer adorned with pistachios. For those with a penchant for sweets, "Gulab Jamun" presents homemade sweetened milk dumplings soaked in a light sugar syrup. The "Pista Kulfi" is an indulgent homemade ice cream enriched with saffron, pistachios, cardamom, and the delicate fragrance of rosewater. Finally, the "Rasmalai" is a delightful treat featuring sweet cottage cheese dumplings immersed in cardamom-flavored milk, elegantly garnished with pistachios and served chilled.
Curry and More doesn't just stop here. They offer catering services to Family Events, Parties and Corporate Events.
Curry and More Catering Services
Depending on your budget and requirement, Curry and More offers customizable options of Indian Food Catering services. The restaurant offers the Catering services in San Diego, San Marcos and Oceanside.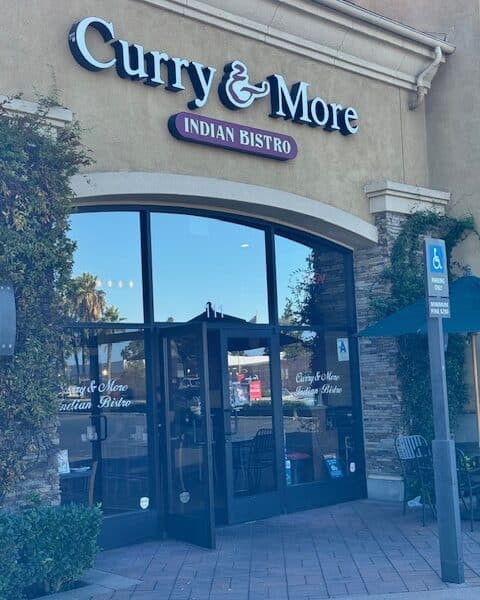 Curry and More's catering services can serve for groups ranging from 5 to 500, making every occasion an unforgettable one. Their team caters to a diverse array of events, from corporate office meetings to cherished family gatherings. For larger parties of 40 or more, they offer the convenience of a per-person rate.
Visited 148 times, 2 Visits today