Overview
Dosa Studio, Indian restaurant in San Diego, with a dedicated focus on Indian Street Food and Breakfast, goes above and beyond in offering a plethora of tempting options for customers to select from. The menu is a comprehensive journey through South Indian culinary delights, featuring iconic dishes like dosas and idlis in various iterations. From classic Plain Dosa to indulgent Butter Masala Dosa, innovative Chocolate Dosa to savory Onion Uttapam, each item is crafted with precision to cater to diverse tastes. The menu extends beyond dosas and idlis, incorporating delightful combos, snacks from the Chaat Corner, and savory options like Punugulu. Dosa Studio ensures a rich and fulfilling experience for every lover of Indian breakfast and street food.
Menu of Dosa Studio
With plenty of options, Dosa Studio's menu is a treat to San Diego food lovers.
Classic Idlis: The menu kicks off with the ever-popular Idlis, a South Indian staple known for its light and fluffy texture. Customers can savor the traditional Idly or explore innovative variations like Sambar Idly and Rasam Idly. For those craving a richer experience, Ghee Idly and Podi Ghee Idly are delightful choices.
Vada Specials: Dosa Studio doesn't stop at Idlis; it also offers an array of Vada Specials to tantalize taste buds. From the crispy Medhu Vada to the flavorful Sambar Vada and Rasam Vada, each dish promises a perfect blend of textures and spices. Dahi Vada adds a creamy twist to the Vada lineup.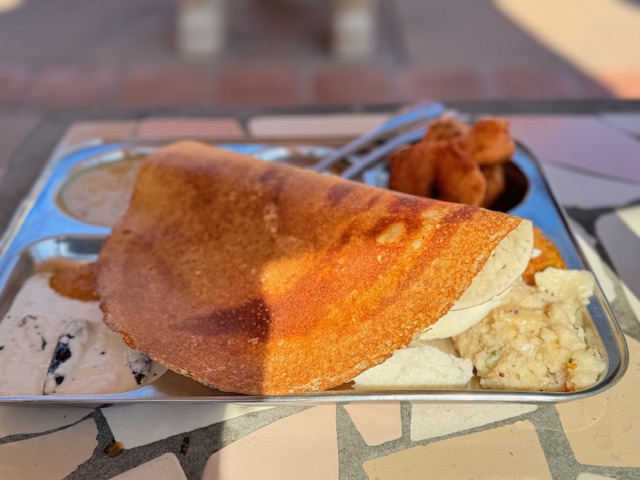 Dive into the World of Dosas: With more than 15 Dosa options, this most-loved South Indian breakfast item takes center stage at Dosa Studio, showcasing the culinary expertise in creating these thin, crispy delights. Options range from classic choices like Plain Dosa to innovative selections like Chocolate Dosa and Cheese Dosa. Here is the list of all the Dosas offered by this Indian Restaurant:
Plain Dosa, Masala Dosa, Butter Masala Dosa, Onion Dosa, Cheese Dosa, Chocolate Dosa, Ghee Dosa, Ghee Masala Dosa, Podi Dosa, Podi Ghee Dosa, Podi Masala Dosa, Kara Dosa, Kara Masala Dosa, Mysore Plain Dosa, Mysore Masala Dosa, Spring Dosa, Paneer Bhurji Dosa, Rava Masala Dosa
Uttapam Specials: Uttapams, a thicker and heartier alternative to Dosas, find their place on the menu. Set Dosa and Plain Uttapam offer a simple yet satisfying experience, while Onion Uttapam and Onion Chili Uttapam add a spicy kick to the mix.
Parotta – Puri: Dosa Studio doesn't limit its offerings to just dosas and idlis; it ventures into the Indian Bread Corner with choices like Parotta Salna, Parotta Kurma, Saag Puri Chole, and Halwa Puri Chole, each offering a burst of flavors.
Savor Snack Specialties and Chaat Delights: The Snack Specials and Chaat Corner introduce a variety of flavors and textures. Vegetable Samosa and Onion Pakora offer crispy bites, while Cut Mirchi and Punugulu bring in a spicy twist. The Chaat Corner delights with favorites like Pani Puri and Samosa Chaat.
Rice Specials: For those craving a hearty rice-based meal, Dosa Studio presents Rice Specials such as Tamarind Rice, Lemon Rice, and Curd Rice, each reflecting the diverse culinary heritage of India.
Sides to Enhance Your Meal: Dosa Studio ensures that every meal is accompanied by a selection of sides, including Coconut Chutney, Peanut Chutney, Potato Masala, Sambar, Rasam, Kurma, Salna, Parotta, Puri, Papad, Chole, and Ven Pongal, each meticulously prepared to complement the main dishes.
Delectable Desserts: Round off your culinary adventure with a sweet note by indulging in desserts like Rava Kesari, Gulab Jamun, and Ras Malai, each promising a symphony of sweet flavors.
Refreshing Beverages: To complement your feast, Dosa Studio offers an array of beverages, from the refreshing Mango Lassi to the aromatic Indian Tea and Madras Coffee.
Catering and Buffets
Dosa Studio presents a diverse weekend Indian Breakfast buffet, featuring an impressive selection of over 10 items.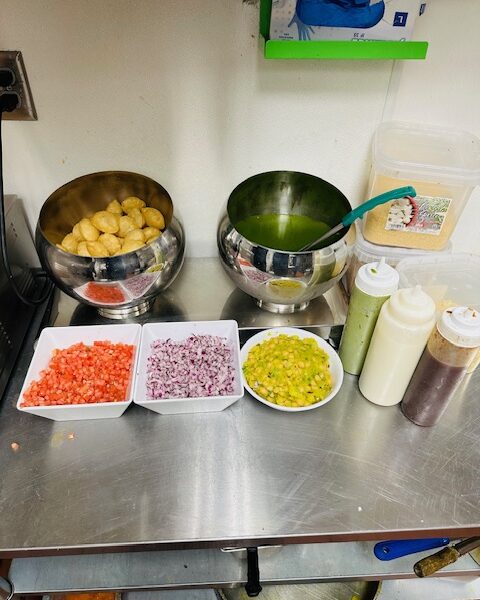 For those eager to delve into the flavors of South Indian breakfast, this buffet serves as an excellent introduction. It encompasses quintessential South Indian breakfast delights such as Idli, Medu Vada, Puri, Dosas, Upma, Ven Pongal, and more. Complementing these dishes are an array of chutneys, Sambar, and Rasam. The buffet also includes two delectable desserts, a dedicated Chaat corner, and the quintessential Indian Tea.
Expanding its offerings, Dosa Studio extends an invitation to indulge in the Unlimited Indian Thali every Thursday. Wednesdays come alive with Chatpata Chaat nights, immersing diners in the vibrant world of Indian street food. The menu boasts an array of options, including Pani Puri, Bhel Puri, Samosa Chaat, Aloo Tikki Chaat, dessert, Chai, and more. To add a delightful touch to Tuesdays, Dosa Studio presents the irresistible offer of $1 idlis.
Dosa Studio doesn't just stop at in-house dining experiences; it caters to your culinary preferences with a tailored catering service. Whether you're inclined towards the lively flavors of Indian street food, the wholesome charm of Indian breakfast, or the diverse offerings of Indian vegetarian cuisine, Dosa Studio ensures that your catering needs are met with culinary excellence and authenticity.
Visited 177 times, 12 Visits today