Overview
Nestled strategically in the heart of Rancho Bernardo, Darbar Fine Indian Cuisine stands as a culinary oasis in this vibrant San Diego neighborhood. Its prime location is not only a testament to convenience but also a boon for tech professionals in the area.
Rancho Bernardo has emerged as a burgeoning tech hub, with numerous tech giants and startups establishing their presence. As tech enthusiasts converge to celebrate their successes or collaborate on innovative ideas, Darbar's exquisite Indian cuisine and inviting ambiance provide the perfect backdrop. It's where the convenience of location meets the richness of flavors, making every team lunch a memorable and satisfying experience.
Menu of Darbar Fine Indian Cuisine
When it comes to savoring the rich and diverse flavors of Indian cuisine in San Diego, Darbar Fine Indian Cuisine stands out as a culinary gem. Located in the heart of Rancho Bernardo, this restaurant offers a tantalizing menu that caters to both vegetarians and non-vegetarians alike, making it the go-to destination for good Indian food in San Diego, CA.
Vegetarian Delights: Darbar's menu features an array of vegetarian options that will delight your taste buds. Start your meal with the creamy and nutty Vegetable Korma or the popular Paneer Tikka Masala, where homemade cheese is cooked to perfection in a special sauce. For those who crave the goodness of fresh spinach, the Palak Paneer is a must-try, featuring spinach cooked curry-style with homemade cheese and aromatic spices. The Malai Methi Matar, with crumbled cheese cooked in a creamy and flavorful sauce, is another vegetarian masterpiece.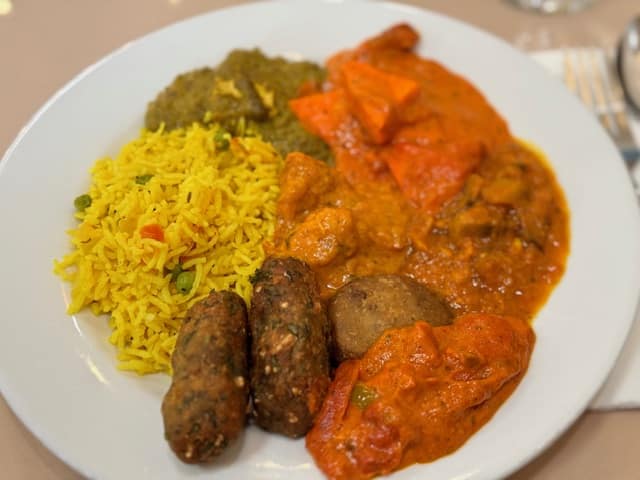 Non-Vegetarian Delicacies: For non-vegetarians, Darbar offers a plethora of options that are sure to satisfy your cravings. The iconic Chicken Tikka Masala features tender boneless white chicken meat bathed in a rich tomato and butter gravy. The Butter Chicken, with tandoori chicken cooked in a special tomato gravy, is a crowd favorite. If you prefer a touch of heat, the Chicken Vindaloo will tantalize your taste buds with its spicy sauce, potatoes, and tomatoes.
Tandoori: Darbar takes pride in its tandoor preparations. The Chicken Tikka Kebab is a flavorful dish featuring marinated and roasted boneless white chicken meat. Seafood lovers can relish the Tandoori Shrimp, which is roasted to perfection, or the Fish Tikka Masala, with boneless fish cooked in a delightful tomato and butter gravy.
Biryani and More: Don't miss the aromatic basmati rice dishes, such as Chicken Biryani and Shrimp Biryani, cooked with a blend of nuts, herbs, and spices. The Vegetable Biryani is a vegetarian delight. Pair your main course with a choice of Indian bread like Naan, Tandoori Roti, or stuffed varieties like Aloo Paratha and Paneer Kulcha.
Appetizers and Sides: To start your meal, indulge in appetizers like Samosa Chat, Vegetable Pakoras, or Reshmi Garlic Kebab. For a light bite, the Veg. Assorted Snacks combination offers a taste of various flavors. Sides like Zeera Rice and Rice Pulao complement your main course perfectly.
Catering and Buffet
Darbar Fine Indian Cuisine also caters to special events and offers one of the best Indian buffet in San Diego. They have a special buffet with Champagne as well. One can find Indian buffet at Darbar on weekdays as well as weekends.
Their "Food Delivered On-site" service brings a grand banquet of Indian culinary treasures directly to event venues. "Food Catering" ensures guests at weddings and anniversaries savor an authentic Indian culinary adventure, with menus tailored to preferences. "Business Park Lunches" add exquisite Indian flavors to corporate meetings. For celebrations, "Party Catering" adds an elegant touch of India. Darbar's participation enhances events, and they craft custom menus for special occasions. With Darbar, every event becomes a showcase of India's diverse and delectable cuisine.
Visited 1071 times, 5 Visits today