Overview
Tandoori Guys Indian Restaurant in Carlsbad and Point Loma, led by Jass Singh, focuses on preserving the rich culinary traditions of India. For over 15 years, they've been an integral part of the San Diego dining scene, earning a reputation as one of the best go-to destination for curry enthusiasts across Southern California.
Tandoori Guys offers a versatile menu, catering to various palates, from mild to pungently spiced dishes. Their commitment to authenticity shines through in the use of fresh, natural ingredients, wholesome sauces, and aromatic spices. Every meal is prepared daily on-site, free from additives and preservatives, ensuring a true taste of India's culinary heritage.
This Indian restaurant in Carlsbad serves Mumbai styled Indian Street Food – Samosa Chat, Tikki Chat and Papdi Chat.
Menu of Tandoori Guys
Apart from Indian Street Food, Tandoori Guys offer Chef's special Goat Curry and a wide varieties of Kababs. There are several options for Vegetarians as well.
Appetizers:
Indulge in a delectable array of appetizers at Tandoori Guys. Start with the Vegetarian Samosa, where you'll savor triangular pastries filled with spiced potatoes and peas, deep-fried to a golden crisp. For a more substantial option, the Aloo Tikki offers potato patties seasoned with aromatic spices and pan-fried to achieve a crispy exterior and a soft, flavorful interior. If you're looking for a lighter choice, the Vegetable Pakora presents an assortment of vegetables coated in chickpea flour batter, deep-fried to perfection. Meat lovers can explore the Chicken Samosa, similar in style to the vegetarian samosa but with a flavorful chicken filling. To complement your meal, try the Masala Fries, which are French fries seasoned with a delightful blend of Indian spices. The Chicken 65 is a fiery and tangy deep-fried chicken dish, bursting with bold flavors. For a taste of India's dairy delicacy, don't miss the Paneer Pakora, featuring paneer, or Indian cottage cheese, coated in a spiced chickpea flour batter and deep-fried. The Gobi Manchurian is a crowd-pleasing Indo-Chinese dish made with crispy cauliflower florets tossed in a savory sauce. If you prefer seafood, the Lahori Fish is the perfect choice, with fish marinated in Lahori spices and deep-fried for a crunchy, flavorful experience. And for a delightful vegetarian option, the Paneer Chili presents cubes of paneer sautéed with bell peppers and onions in a spicy chili sauce.
Indian Street Food:
Discover the vibrant flavors of Indian street food with Street Corner selections. The Samosa Chat is a delightful rendition of the classic samosa, broken into pieces and topped with chutneys, yogurt, and spices, creating a tantalizing chaat. Another delightful chaat option is the Tikki Chat, featuring potato patties served with a blend of chutneys and spices. If you're craving an iconic North Indian dish, indulge in Chole Bhature, where spicy chickpea curry (chole) is served with deep-fried bread (bhature). The Papdi Chat offers a crispy delight, with dough wafers topped with yogurt, tamarind chutney, and various flavorful ingredients.
Non Vegetarian Curries:
(Served with Basmati Rice)
Immerse yourself in the rich flavors of Indian curries at Tandoori Guys. Whether you prefer chicken or lamb, the curated selection of meat curries has something to satisfy your palate. Explore the creamy and aromatic Tikka Masala Curry, where your choice of meat is cooked in a luscious tomato-based sauce, infused with a blend of Indian spices. For a luxuriously smooth option, the Butter Curry combines tender pieces of meat with butter and a rich tomato-based sauce. The Saag Curry showcases meat cooked with spiced spinach puree, offering both nutrition and bold flavors. If you're in the mood for something particularly rich and indulgent, the Korma Curry delivers a delightful experience with its creamy sauce infused with almonds and cashews. The classic Curry is a staple, prepared with a well-balanced combination of spices. If you prefer a bit of heat, the Vindaloo offers a spicy curry experience with your choice of meat. For a dish that reflects the culinary expertise of the chef, don't miss the Meat Curry, a signature creation that promises an extraordinary flavor journey. Finally, the Goat Curry (Chef's Special) is a delightful exploration of goat meat cooked in a specially crafted sauce, making it a true highlight of the menu.
Vegetarian Curries:
(Served with Basmati Rice)
Vegetarians will find a variety of delectable options in the vegetarian curries section. Explore the Saag Paneer Curry, where homemade cottage cheese is cooked in a creamy spinach sauce. The Vegetarian Korma Curry is a delightfully rich and nutty option, combining a variety of vegetables with cream and spices. For a dish that's as indulgent as it is delicious, the Malai Kofta Curry features vegetable dumplings in a creamy sauce adorned with cashews. The Chana Masala Curry showcases chickpeas cooked with Himalayan herbs and spices in a tomato-based sauce. If you're seeking a unique texture, the Mushroom Cashew Curry combines mushrooms and cashews in a creamy curry. For a comforting classic, the Yellow Daal Curry presents mixed lentils cooked with fresh onions, tomatoes, and Himalayan spices. The Paneer Tikka Masala Curry is a delightful creation featuring homemade cottage cheese in a creamy tomato-based sauce. The Aloo Gobi Curry is a traditional favorite, with cauliflower and potatoes cooked in a spiced sauce. If you're intrigued by the name, don't miss the Vegetable Makhni, a vibrant mix of vegetables in a buttery tomato sauce. The Kadhai Paneer is an appetizing combination of homemade cheese with bell peppers and a savory sauce. For those who appreciate eggplant, the Eggplant Bharata showcases oven-roasted eggplant with green peas in a delightful spiced sauce. And, of course, you can't forget the classic Daal Makhni, featuring mixed lentils cooked to perfection. Shahi Paneer, homemade cottage cheese cooked in a creamy, almond-infused tomato sauce. Saag Aloo, savor the combination of tender spinach and potatoes cooked in a traditional Indian style with a hint of cream.
Rice and Biryani:
Indulge in fragrant and flavorful biryanis at Tandoori Guys. The Plain Rice provides a perfect base, while Jeera Rice adds a touch of cumin for extra zest. For a vegetarian option, the Vegetarian Biryani offers a sumptuous blend of vegetables, aromatic basmati rice, almonds, nuts, and raisins. Meat lovers can choose from the Chicken Biryani, Lamb Biryani, or Shrimp Biryani, each offering a flavorful combination of meat and rice.
Kababs:
Kababs are a true culinary delight. The Chicken Tikka (Dry) Kabab is a flavorful dish with marinated, boneless chicken pieces. The Tandoori Chicken Kabab brings you the authentic taste of chicken marinated in yogurt and spices, roasted to perfection in the tandoor oven. For a creamy and delightful choice, the Malai Kabab features tender, marinated meat. If you're looking for a vegetarian kabab, the Hara Bhara Kabab is a scrumptious option made with a variety of green vegetables. The Lamb Boti Kabab and Chef's Special Kabab promise a memorable taste of succulent, marinated meat prepared with expert care.
Indian Bread:
The Tandoori Roti is a traditional Indian unleavened flatbread, perfect for sopping up rich curries. The Butter Naan adds a touch of indulgence with its buttery goodness. If you're a garlic lover, the Garlic Naan is a must-try, featuring garlic and cilantro for extra flavor. For a cheese-infused delight, the Cheese Naan is a favorite, filled with mozzarella cheese.
Desserts:
End your meal on a sweet note with the tempting desserts. The Gulab Jamun features sweet milk balls in sugar syrup. For a creamy delight, try the Ras Malai.
Lunch Specials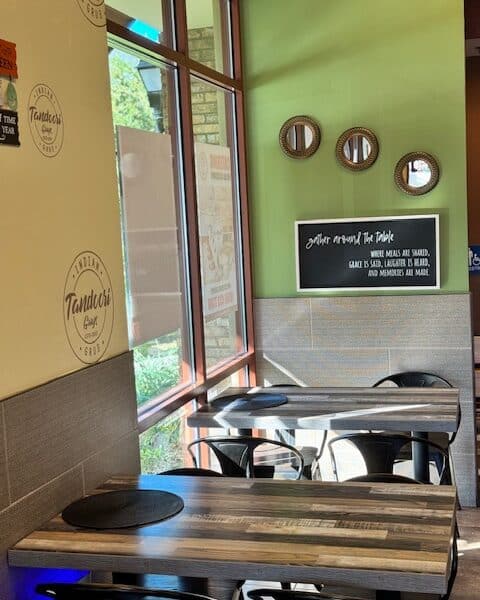 Lunch Specials:
Tandoori Guys offer Lunch menu with a delightful combination of flavors. Each meal includes a serving of salad, naan, and your choice of curry. Vegetarian options include Saag Paneer, Veg Korma, Chana Masala, and the chef's special vegetarian dish. For meat lovers, indulge in Chicken Tikka Masala, Chicken Curry, Peshawari Chicken, Tandoori Chicken, Chicken Tika, Lamb Curry, or Fish Masala.
Kids Menu:
Each of the kids meal includes a choice of salad or fries, naan or rice, and a drink. The options include Chicken Kabab and kids Tikka Masala (available in both vegetarian and chicken variations).
Visited 157 times, 1 Visit today